News
Race Report - Parc Bryn Bach Aquathlon Series - Paul Bufton (posted 24/8/18)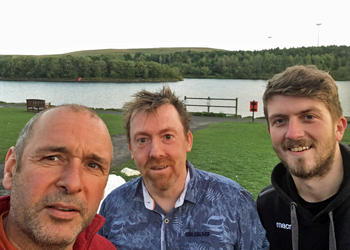 Parc Bryn Bach aquathlon series, last race (4/4).
It was pouring with rain as we arrived and the lake side cafe was pretty full with competitors until about 30 mins before the start. Then the sun tried its best to shine, the rain stopped and conditions were near perfect for the race.
Unfortunately our gold medal aquathlonist Dale Williams was unable to compete due to injury sustained at Colwyn Bay , so it was left to Gareth Lawrence , Stewart Webb and Paul Bufton to fly the flag for the club.
Paul had a very good swim emerging from the water in 10th , with Gareth and Stewart close behind. Although it wasn't long before Gareth's superior running took him past Paul,and with a few words of encouragement, strode off into the distance to eventually finish in a very impressive 6th overall on the night. Paul coming home in 17th and Stewart 34th knocking a massive 2mins off his time from race 3 - well done Stewart!
Race 4 results - see here (.pdf)
This means that Gareth Lawrence has won first place male in the overall series of 4 races - a massive well done!
Race Website
Race Report - Welsh Aqualthlon Championships (posted 18/8/18)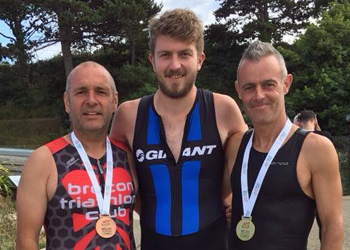 Standby, Standby: we have a National Champion - Dale Williams!
80 competitors lined up for the Welsh Aquathlon Championships organised by GOG Triathlon with the support of Welsh Triathlon at Porth Eirias today. Big reports of masses of jellyfish lurking and a delayed start due to strong winds and currents moving the buoys! But Club members Dale Williams, Paul Bufton and Gareth Lawrence were there being extra brave. It was Gareth's first open sea race so a nice easy one to start!!
To be honest, very difficult conditions but it didn't seem to bother Gareth too much putting in a great swim time though probably clocking much more than 750m! Dale and Paul also cracked out great swims. The run was an out and back route along the sea front. Very flat except for the final short sprint up the slipway to the roof of the Porth Eirias Center, then under the green finish arch with a large, enthusiastic crowd cheering everyone over the line.
Dale was up at the front and pushing hard on the run and came in 10th overall but first in category (32:21min) - our new Welsh Champion (will he consider stopping his support for Crystal Palace now!).
All finished in the top half of the table with highly respectable results:
Gareth 15th overall 6th in cat (32:31min) and Paul 38th overall 3rd in cat (39:36min).
Full results here: gogtriathlonclub.niftyentries.com
Welsh Triathlon report here: Welsh Triathlon
Exceptional results for a tiny club!
Coached Swim Training Friday Evenings from September 7th 2018 (posted 17/8/18)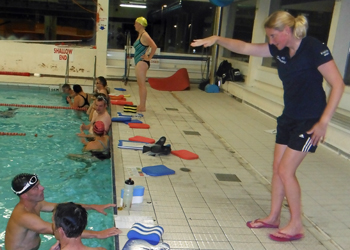 Our favourite coach Kylie Mansfield will be here again on Fridays 7.30-8.30pm with the new swim block starting 7th September, 2018 for 15 sessions (ends 14th December).
Each session will be for one hour and we will need to be poolside and ready to start at 7.25pm.

As before there will be 4 lanes with slowest swimmers in the first lane, and more experienced in the last lane, so everyone will be training with swimmers of similar ability.

Brecon Triathlon Club membership is mandatory as these sessions are heavily subsidised by the club.
Pricing:
All 15 sessions £70. All payment requests is in your online club account now.
Details sent out by email too (17/8/18).
Fee includes pool entry and coaching.
Booking Deadline 4th September:
Pay promptly - first come first served.
Once the maximum number of swimmers is reached the remaining payment requests will be deleted.
Access your online account here.

AG Sprint Distance European Championships 2018 - Richard Walters (posted 12/8/18)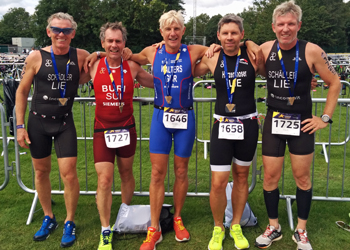 Well pleased with 25/48 at the Age Group European Championships (sprint distance) in Glasgow yesterday. Steady progress - 37 & 32 previously. Brutal swim that would have finished me a year or two ago but no panic and kept going. Classy event with a cracking team manager, Jon Cowell.
Elites there too and the first time I've actually seen a Brownlee in action. Alistair raced well but lost out to Le Corre on the run. France dominated the mixed relay too. Met some great friends and managed to link up with the massive Lichtenstein squad again!.
Results: www.triathlon.org
Interestingly this was the last non drafting event. From now on drafting is legal at both ITU and ETU level. This will extend into standard distance racing in the coming years. No TT bikes allowed. This leads to the odd situation for the ETU Championships in Kazan next year when most qualifiers (myself included) will never have done a draft legal race (all qualifiers were non drafting)! Could be a recipe for chaos...
Club Kit (posted 31/7/18)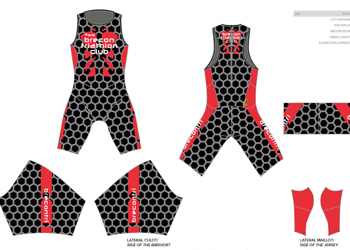 Club member Paul Wesley has taken over the management of our club kit. It is likely this will mean a new supplier but no overall change in colour or design. Hoodies and T shirts will also be available.
Paul is looking for kit sponsors so get in touch if you have any ideas.

All Club members should ideally have a tri outfit for competitions and a cycle top for Club rides.
The club will continue to discount kit at 30%. This discount will be applied separately by the Club after your order is complete, so keep the receipt. Generally you will need to pay the total cost upfront but will get a 30% refund after you have received your kit, assuming no returns etc.

Paul will be update in the autumn.
AG Standard Distance European Championships 2018 - Richard Walters (posted 23/7/18)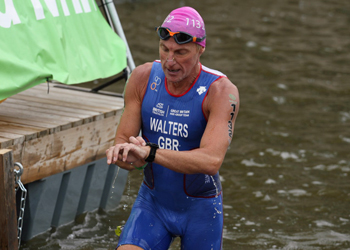 Just got back from the Age Group European Championships (standard distance) in Tartu, Estonia. Managed to sneak into the top half of my AG coming 20/42 and pleased with a PB of 2:14.
They're all good swimmers and I'm not, so I've always avoided this distance. Tried my first ever last year and qualified. Then at the Championships, with some irony, they ban wetsuits (too warm) and add an extra 250m (to balance out the river current)! Thought I may have had a drafting penalty so stopped in the box on the bike (instant disqualification if you don't stop) but no, I was OK. Pleased with the run at 39. Great event and spent most of the weekend with the whole team from Lichtenstein (1)!
Great to see the elites race with wins for Sophie Coldwell and Richard Varga.
Results: www.triathlon.org
5 hours live feed!: tv.delfi.ee
The Wall - Kate Hovers (posted 17/6/18)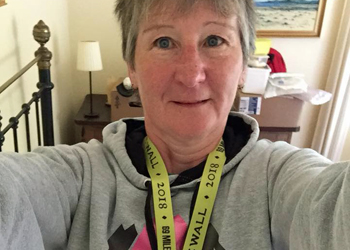 Ultra Running - from Carlisle Castle to the Gateshead Millennium Bridge over a mixed-terrain route that incorporated both on and off-road sections. 69 miles conquered in just one day. The Wall awaits.

"69 miles, 21 hours. Multiple blisters but feeling good".

Event Website: ratracethewall.co.uk
Results: ratracethewall.co.uk/2018-results
Brecon Titan - Verena Zimmer (posted 16/6/18)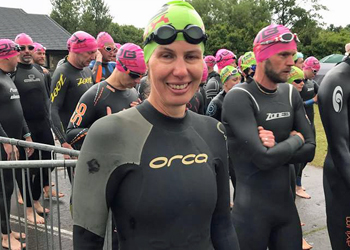 Another year, another Titan!
No sunburn this year, got my wetsuit on the right way round (took two attempts though!), went up from third last to 16th last, and took 44 minutes off my time - not thanks to the swim which Tom Banning measured at 2.5k!
Results: dbmaxresults.co.uk
Successful Brecon Triathlon 2018 (posted 10/6/18)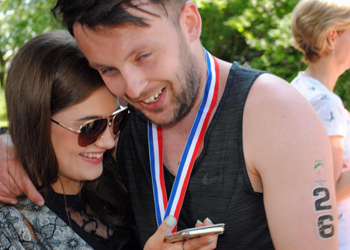 Fantastic event this year. A real success with thanks to all our volunteers plus Race Director Aled Edwards and Tri & Enter boss Scott Powell. The forced switch back to the old transition area was a definitite hit.
See results here
Club Officials for 2018 (posted 23/2/18)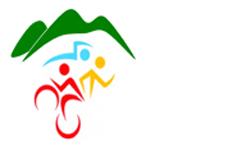 Following on from last Sunday's club meeting here is a list of elected officials for 2018:
Chair - Catherine Etchell
Treasurer - Stewart Webb
Secretary - Richard Walters
Welfare Officer - Stewart Webb
Committee - Aled Edwards, Sarah Jane Hughes
Club Kit - Paul Wesley

Annual General Meeting Date for 2018 Confirmed (posted 5/1/18)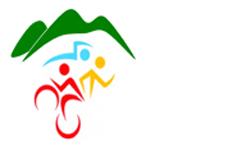 AGM Date: Sunday, 18th February 2018 - 6.30pm
We are meeting at the Bank Bar, Brecon at 6.30pm. All welcome - and a great chance to meet the many new faces in the Club. Lots on the agenda including Brecon Tri 2018.
Please make an effort to attend as this is a big opportunity to progress the Club. A free meal will be available.
Please bring along your membership fee (£10) for 2018.